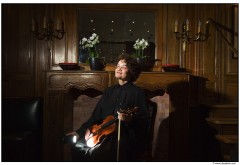 Mary Mader
Violinist

Awards:

- Congress of Strings Award and scholarship
to study with Prof. Louis Krasner
of Syracuse University in New York
- W. W. Stout Preis.
Academic studies:

- Violin with Eugene Andrie at the University of Montana
- Bachelor of Music with Honors in Violin Performance from the University of
Montana in 1972
- composition with Eugene Weigel at the University of Montana
- violin with Sandra Schwartz of the Cornish Institute
- Emanuel Zetlin, of Curtis Institute, Philadelphia
- Denes Zsigmondy at the University of Washington, Seattle


Work experience:

- Concert Mistress of the Missoula Symphony Orchestra
- Concert Mistress of the Cirque Theater Orchestra
- first violinist of the De Voto String Quartet and the Bainbridge String Quartet
- As a soloist and professor, she has performed and taught at many music festivals
- From 1981-2009 she was a permanent member of the Munich Chamber Orchestra.
- Since 2009 she has been performing regularly with the Munich Chamber
Orchestra as a guest.
- In 2009 she performed, taught and coached chamber music at the Bavarian
Academy of Music at the Castle Alteglofsheim.
- She also performs with various musical ensembles, e.g. the Munich Camerata , the
Orchestra Del Arte, Neuburg on the Danube , the Karlsfelder
Symphony Orchestra, as the Leader of the 2nd violins, and for various
church concerts and masses.
- Sie performed for the 9th Internationale Peace Conference, February 3. - 6., 2011
at the "International Forum" together with Joan Schneider, Pianist.


Contact me for violin engagements